REACH OUR MEMBERS YEAR-ROUND
Get in front of SPN members throughout the year by becoming a year-round partner. Select from a wide variety of promotional options designed to maximize your brand exposure. For more information on any of these opportunities, please contact [email protected]. 
SPN Hospital and Corporate Sponsorships
The Hospital and Corporate Partners program is for children or general hospitals, non-profit organizations, or pediatric facilities. 
SPN Membership Email
$2,500
Send a dedicated email blast to the over 3,600 pediatric nurses and educators that make up our membership. Email content is subject to approval by SPN and is sent on partners' behalf by SPN. 
SPN eNews Sponsorship
$1,000 - Top Banner Advertisement (800 x 200 px)
$500 - Bottom Banner Advertisement (400 x 200 px)
Sponsor one month's issue of SPN's eNews, our monthly industry newsletter.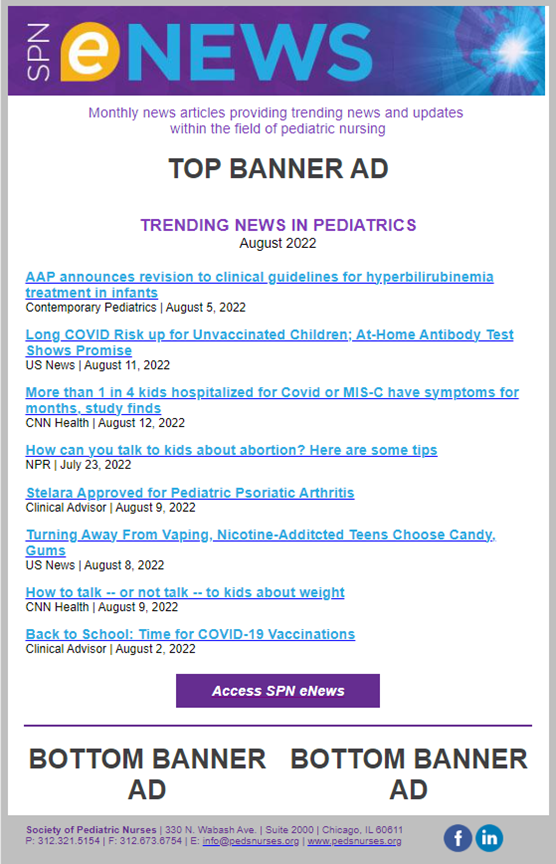 SPN Request to Conduct Research
Member - $50 application fee and $250 distribution fee
Non-Member - $100 application fee and $375 distribution fee
SPN welcomes research proposals involving its members that will facilitate the health and welfare of pediatric patients, their families, and the pediatric nurses who care for them. Submit a Request.

SPN Webinar
$2,500
Sponsor an educational webinar hosted by SPN, with over 100 live attendees. After the live webinar, the content will live on the SPN online education center for up to two years. Webinars are free to all members to access anytime. Your logo will also be included in all promotional materials for the live and enduring webinar.
SPN Virtual Focus Group
$1,500
SPN will recruit 8-10 field experts for a one-hour, in-depth focus group on the topic or product of your choice.
SPN Career Center Banner Ad
$800/month or $165/week 
Place a banner on the SPN Career Center. Visit the SPN Career Center for more information.
SPN Membership Email and Social Media Post Combo 
$3,000
Send a dedicated email blast to the more than 3,600 pediatric nurses and educators that make up SPN's member community. Email content is subject to approval by SPN and is sent on partners' behalf by SPN. Increase your reach by sharing your message on SPN's Facebook page, which is nearing 10,000 likes. Images, GIFs, and videos are all welcome in sponsored social content to highlight your thought leadership or product