PEDIATRIC NURSES WEEK
Join us October 2-6, 2023, to celebrate Pediatric Nurses Week! This week's mission is to promote pediatric nursing, the practice of nurses dedicated to promoting the optimal health of children and providing excellence in nursing care of children and their families. This week calls attention to the critical work that pediatric nurses provide to improve healthcare delivery. It is a time to reflect on pediatric nurses' contributions to patients, families, and communities.
PNW2022 Social Media Contest Winners
Congratulations to the nurses at the Children's Hospital of San Antonio, the winners of this year's Social Media Contest! Thank you to everyone for participating and sharing your Pediatric Nurses Week spirit!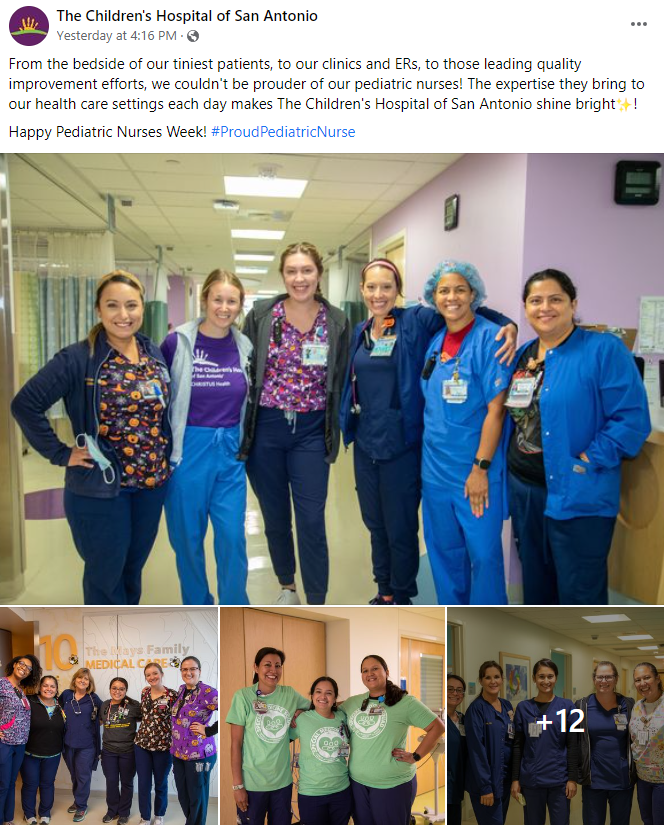 NEW PNW Products Now Available! 
Check out these new Pediatric Nurses Week products offered by SPN in collaboration with Jim Coleman, Ltd. 
SPN Offering Special Discounts to Celebrate PNW!
SPN is offering major discounts on all remaining logo items and a variety of publications. SPN vests, quarter zips, and lunch boxes are all discounted for a limited time. 
Celebration Activities 
Hold celebration raffles and give out prizes

Create "Why I Chose Peds" posters to hang in your hospital

Incorporate a fun theme for the week

Games for patients and their families

Host a potluck, staff breakfast or ice cream social
Pediatric Nurses Week Webinar: Joy in Pediatric Nursing with Greg Durkin
Instructor: Greg Durkin M.Ed., BSN, RN, NPDA-BC 
Wednesday October 4, 2023, 11:00 am CT
NCPD Contact Hour(s): 1.0
Working in pediatric healthcare is stressful on the best of days, but in a post-pandemic time of a behavioral health crisis, a nursing shortage, and increased complexity of care, it's all too easy to feel disconnected and dissatisfied with our jobs. In this humorous and interactive presentation, participants will learn about the differences between happiness and joy at work and strategies to help nurses remember that their work is not about medications administered or timecards processed, but rather the meaning we feel from the gift of service. 
Registration Fee: Free for everyone
Downloadable Resources